Wonder Lake Ski Team History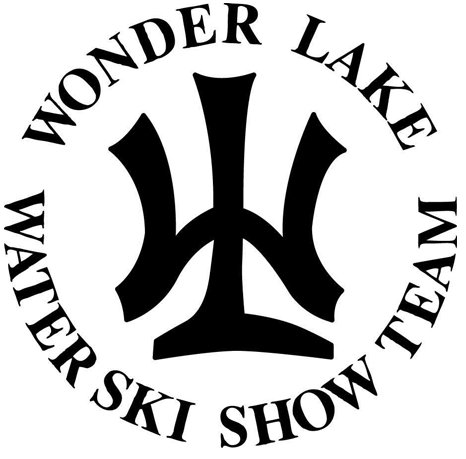 The Wonder Lake Water Ski Show Team has been in existence since 1955 and has performed shows for their home crowd since 1959.
In 1986, the team took on a new perspective and began competing in tournaments. To this day, our primary objective is to perform to the best of our ability and entertain crowds. Proudly boasting to be the 1996, 2000, 2001, and 2010 National Show Ski Champions.
The Wonder Lake Water Ski Show Team has consistently finished in the top five places at the National Tournament, and also held the Regional title several times throughout the years! The Wonder Lake Water Ski Show Team from Wonder Lake, Illinois is comprised of about 140 members primarily from the local community.
About half of these are skiing members. The rest of the team is supporting. The Membership consists of all ages, moms, & dads, brothers & sisters, sons & daughters, husbands & wives, aunts & uncles, cousins, neighbors but most importantly Friends.
The WLWSST is proud to have had a history of professional water skiers performing all across the world. Ski shows at Sea World, Cypress Gardens, Tommy Bartlett's, Water Ski Show Inc. World Entertainment, and many others. Our skiers have performed for professional shows in Florida, Ohio, California, Louisiana, New Jersey, Wisconsin, Australia, Germany, Malaysia, Japan, and others.
For the history of show skiing click on the link. http://www.usawaterski.org/pages/divisions/showski/History.htm
Ski Team Timeline
1955   8 teenagers form the Wonder Lake Water Ski Club.
1955   First equipment purchase (a Saucer) costs each member $0.80.
1956   Club builds first "small" jump, 24 feet long, 4 foot high. Membership rises to 40 participants.
1959   Wonder Lake Ski Club performs 1st ski show on Labor Day.
1960   Club builds "big" jump, 25 feet long, 10 feet wide, and 6 feet high. Performs their second show.
1961   Club purchases 4 pairs of specially designed jump skis. Barefoot waterskiing was demonstrated.
1962   Club performs a ski show for the McHenry Fiesta Days.
1963   Glenn Riedel demonstrates the "Difficult and Dangerous" shoe ski jump. Club purchases a 16 x 14 Foot Kite. The kite act and triple barefoot act were performed in the show.
1970's   Sky Divers are part of intermission show on the 4th of July.
1959-86   Club performs 1 ski show on Labor Day
1984   Introduction of the straps act: the adagio trios and strap doubles.
1986   Team competes in 1st National Tournament.
1986   Bob Hartmann lands the 1st single ski gainer in a National Tournament.
1988   Junior Team formed 1991 1st Twin rig Hydrodyne Outboard Purchased. Keni Koreba wins Willa Cook Award.
1994   Wausau Invitational 1st place. Bob Hartmann wins Skip Gilkerson Award.
1996   Jump team wins first National Show Ski Championship. 1st Illinois Team to win Triple Crown of Show Skiing- Lamb's Farm, State, and Nationals. Team purchases 2 Carolina Skiff outboards to be used as Pick-up Boats
1996-97   Record setting 6 back barefooters behind 1 boat.
1996-2003   1st place finish in Regional Tournament.
1998   Record setting 8 back barefooters behind 1 boat.
1998   Team completes unprecedented 6 staggered three high pyramids.
1998   Jarret Graff wins Skip Gilkerson Award
1999   Team adds 2nd twin rig – DynaSki 2000 with 2 225HP Yamaha's
1999   Five Tiers High! The team completes and brings home the five high pyramid.
2000   Team wins second National Show Ski Championship.
2001   Team wins third National Show Ski Championship. Jump Team introduces the dangerous and thrilling "Hangman" (Dan Hansen & George Hartmann)
2001   Dan Hansen wins Skip Gilkerson Award
2001-03   Three-peat of National titles for the Jump Team.
2002   Big Act puts 54 skiers on the water behind 4 boats, Jump Team premiered the even more dangerous variation of the "Hangman" adding a 3rd jumper (Jarret Graff doing a back gainer.) Team purchases a home site in the Hickory Falls subdivision.
2003   Arik Lebda performs a shoe ski back gainer off the ski jump. Triple Rig DynaSki
2000   with 3 250HP Yamaha Outboards launched.
2004   Bob Hartmann wins Skip Gilkerson Award for the 2nd time! First practice at our home site in Hickory Falls
2005   First ski show held at our home site by the Junior Club.
1996-2010   Placed in the "top 5" for fifteen years straight.
2006-07   Team performs the Thread the Needle, Hot Pick-up Prefab Pyramid act and earns top honors at the National Tournament for highest scoring act for 2 consecutive years.
2009   Ski Team celebrates the 50th anniversary of the first ski show on Wonder Lake. Teams registered membership soared to historic high in celebration of 50th reunion show. Over 400 Team Alumni gathered to celebrate the 50th anniversary of the first ski show over Labor Day weekend.
2010   Impromptu1st Friday night home show at Ski Team Beach due to beach closure at Wonder Center.
2010   Team Wins fourth National Championship. Jump Team, Back-barefoot Line, Swivel Stars and Boat Driving Team take 1st Place National honors.
2012   Five team members are asked to participate on Team USA at the first ever World Water Ski Show Tournament in Janesville, WI. Dan Hansen, performs the Backbreaker act, Barefooting while towing 2 jumpers behind him who perform gainers over the jump.
2011   Back Barefoot Line wins highest scoring barefoot Act at Nationals.
2012   Team members Jayson Rishling, Roger Gerstad, Jarret Graff and Dan & Kim Hansen represented the USA in the first ever World Show Ski Tournament. Team USA placed first ahead of Australia, China, Canada & Belgium. Dan Hansen, & Arik Lebda Lebda perform the first barefoot/Jump 'Backbreaker' in a full circle.
2014   Team members Jayson Rishling, Jarret Graff, Arik Lebda, Jordan Shulda and Dan & Kim Hansen represented the world champion USA iteam n the second ever World Water Ski Tournament ahead of Australia, Canada, China, and Belgium Jayson Rishling wins Skip Gilkersen Award for Most Valuable Male Skier at National Tournament Jump Team wins Individual National title
2015    Team purchases second "triple-rig" hydrodyne; wins Regional title; places 5th in National Tournament.
2016    Team Wins fifth National Championship. Tow Boat Driving Team, Pick-up Boats, Dock and Equipment Crew, and Sound Crew take 1st Place National honors. Team wins top scores in Showmanship. TEAM USA Wins 3rd World Championship including the six elite athletes from WL that participated on the 2014 TEAM USA.
1996-2016 Placed in the "top 5" for 20 consecutive years.